Based on latest research and information we further try our best to give nutritional advice to our customers, however it can not replace your physicians advice if suffering from ailments and diseases. We also have a panel of experts on our website who not only share our beliefs but are also available to give you nutritional advice online. Moreover, the non -invasive scan machine available at the store allows you to see which way your body is moving and allow you to have prevention before cure. Our aim is to allow people to rethink about the impact of our lifestyles on our health and environment and eventually go back to our roots-the way nature intended it.

The Roots Organic is a family run business which was started in December 2010. Having experienced the benefits of organic food in our family we decided to share our experience and be instrumental in bringing change to the lifestyle of others. Our vision is to become a one stop shop for organic and natural products available in the country. We have taken utmost care in sourcing our organic and natural products from various companies and individual retailers to ensure no nasties are sold to our customers. The Organic products are APEDA regulated and carry the certification of organic products as per National Standards for Organic Production. Other Organic certification bodies are USDA, NOPP, HACCP, etc.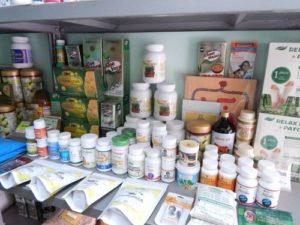 15 Reasons to Eat Organic Food
Organic food is higher in nutrients.
hey're free of neurotoxins.
They're supportive of growing children's brains and bodies.
They are real food, not pesticide factories.
Buying organic reduces pollution.
Organic food is earth-supportive.
It supports independent family farmers.
It tastes and smells better.
No gas-ripening.
Organic farms are safer for farm workers.
Organic food supports wildlife habitats.
Eating organic may reduce your cancer risk.
Reduce exposure to antibiotics and hormones.
Organic food is tried and tested.
Organic food supports greater biodiversity.
Why Organic Personal Care
Approximately 60-70% of the products we put on our skin are absorbed by the skin. Unfortunately, most mainstream cosmetic products are compromised with mineral oils, synthetic preservatives, phthalates (used in fragrances), nitrosamines, formadehyde, and acrylamide and other highly processed and contaminated ingredients that are not skin-friendly nor have they nurturing, rejuvenating or healing qualities. Over time, as the skin tries to cope with these foreign substances, it becomes overburdened and weak. As a result our body becomes more susceptible to damage by free radicals, dryness and sensitivities – as well as a host of other problems – all of which may well affect our health and accelerate the aging process. Many of these chemicals have the potential to interfere with our body's biological functions; many others create allergic reactions – sometimes severe.
We have only one body – it makes sense to care for it wisely. With today's numerous environmental challenges affecting the health and beauty of our environment and increasingly our health and beauty as well, it is of great importance to select the products we intend to use carefully. Simply stated, natural skincare products are better for your health and the environment. True natural skincare products are made with organic ingredients as nature intended and are produced without mineral oils, parabens, synthetic preservatives, artificial colors and fragrances, GMO botanical sources and otherwise inferior or harmful substances. By shopping for high quality genuine natural skincare products made with organic ingredients, this will ensure that you receive wholesome care that are good for your body and your skin.